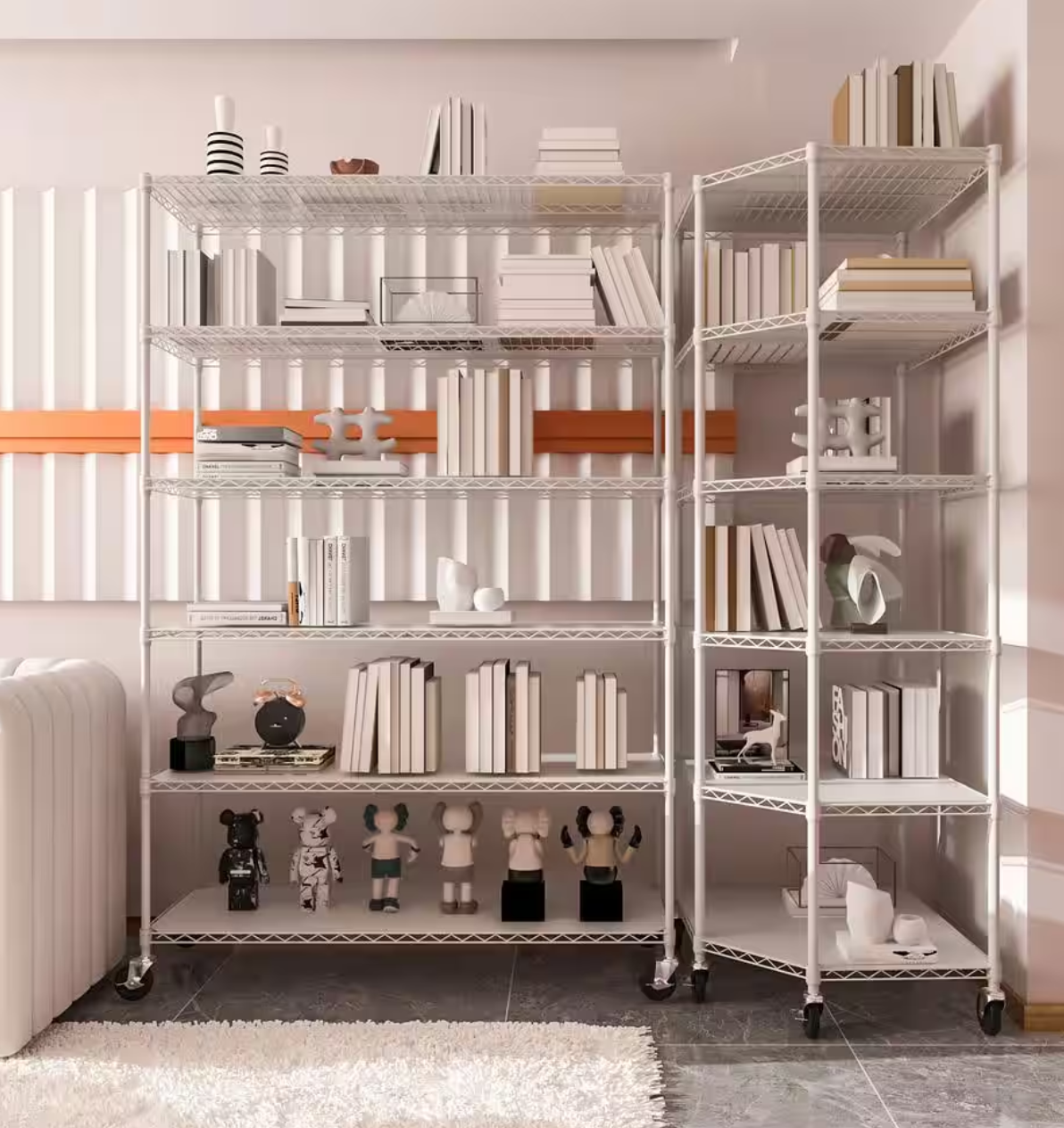 Home shelving systems
Simply Metal has a passion for transforming the style of home interiors with home shelving systems and storage solutions. Perfect for the home and home office, our products are innovative, creative, and functional.
SIMPLY METAL
Home office shelving for an efficient, organized workspace
Shelves in metal and wood are currently a hot trend and they add both rustic and industrial overtones to the home, home office and office with ease. Simply Metal offers a huge selection of wire shelving and wire shelves in a wide variety of materials for commercial applications. Application areas include food service, hospitality (laundry) and medical applications, but is also suitable for office storage and retail display. Below you will find examples from our wide range of home & office shelving products.
01
Single ped desk
Working from home or working on homework, a single pedestal desk gives you the workspace you need.
02
Fabric drawer
The iron frame provides stable support for the fabric boxes, and the fabric element gives the metal-framed dresser a soft and warm touch.
03
Wooden bookcase
An ideal home shelving system, the wooden bookcase mixes wood with metal for a fresh, innovative design.
04
Coat rack with drawer
Simply Metal's freestanding coat rack with drawers is the perfect home organization system for your hallway, office, garage, or bedroom.
05
Coat stand rack
This coat rack is not only a coat rack, but also a storage rack for your hallway, office or bedroom. You get three sturdy shelves to organize your items.
06
Foldable shelves
Foldable shelves are a smart storage solution and ideal home shelving system when you are short on space.
07
Bookshelf
Small in stature but big in design, our wooden and metal bookshelf provides the home shelving system that you need to stay organized and efficient.
08
Cart
This 3-tier rolling cart makes organizing in the home more fun and stylish.
09
Printer stand
If you are short on space in your work area, this mobile printer stand offers plenty of room to keep your space tidy and organized.
10
Washing bins
Both functional and fashionable, washing bins on wheels offer a great home organization system. The mesh wire adds a stylish aspect while providing heavy-duty support.
11
Wire basket
Metal wire hanging fruit and vegetable basket has a convenient modular design, so you can use it alone or as a complete set for space-saving storage.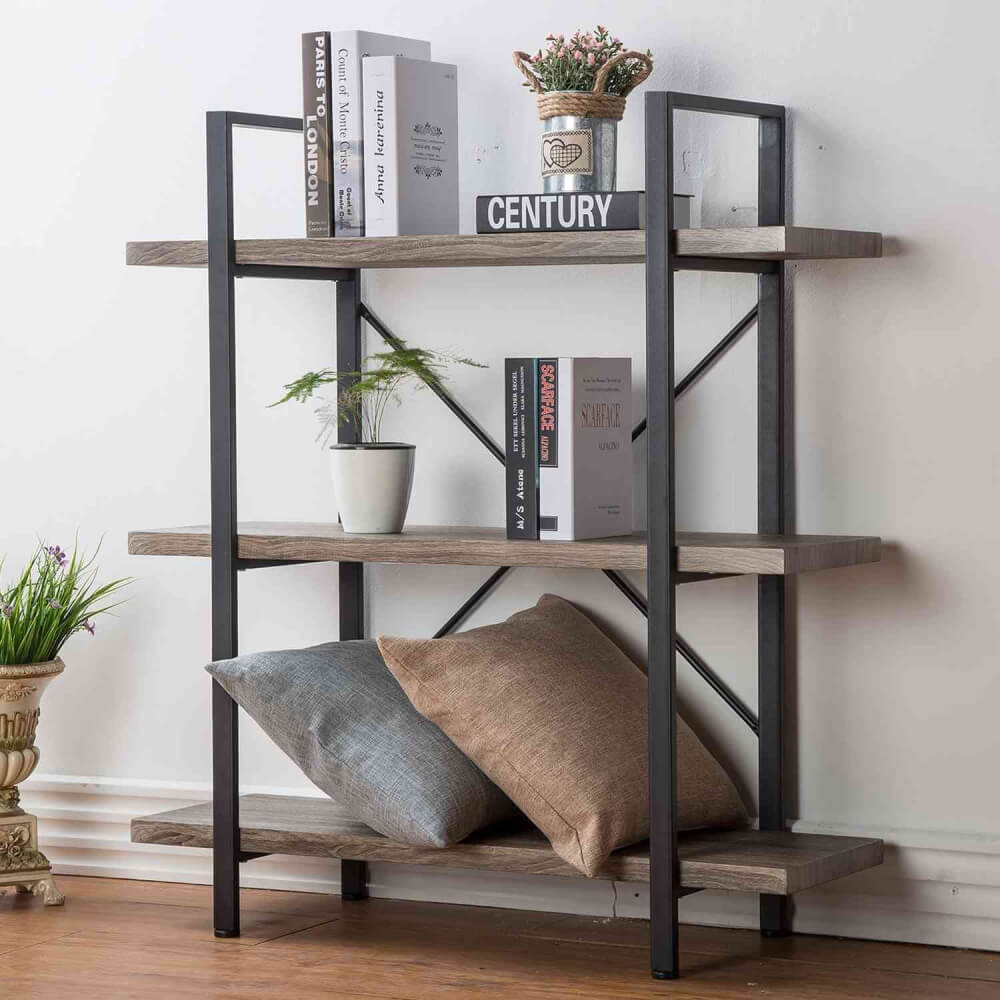 "Now I have "Ozze" in our local market not only for stationery and office supplies but also for shelving systems. I am glad that the Simply Metal team helped me with this. They are my trusted partner from China."
MODERN
Home shelving systems and storage solutions
Your home and home office need shelving and storage solutions that are not only practical and functional but stylish too.
Our home shelving systems can help keep your home and office organized and neat. Whether you need extra space in the form of functional bookshelves or rolling carts for the schoolroom, our customizable and useful options help make your life more organized and your home more stylish.
FAQ
Home & office shelving explained
Find the home shelving systems and storage solution answers that you're searching for.
How do I manage storage in my home?
Industrial wire shelving is specially designed for storing items in stores or warehouses. Therefore, they must withstand heavy use and a variety of items that may or may not exceed the average novel. Industrial wire shelving is designed to store items you can grab with your hands, not boxes or crates of goods that workers can move in large quantities.
What do you need storage for in a house?
Accordion description i
Is storage important in a house?
Accordion description i
Your partner in home office shelving & storage
By working with Simple Metal you get a reliable supply of trending home & office shelving products. Your customers will love them!